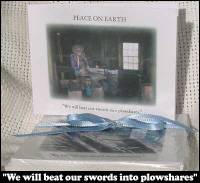 These are great year round greeting cards and especially relevant during this holiday season.

Our 'plowshares' card includes Inside text on the left side: "Love one another, even as I have loved you", and on the right "The hearts and minds of humankind will not be won by the sword, but by planting seeds of love, compassion, kindness, wisdom, and understanding".

Price: $10 per dozen, $5 total shipping and handling for any quantity to US destinations. International shipments at additional cost by special arrangement.